The changing nature of UK aid in Ghana
UK aid has been "mostly effective" at helping some of the poorest and most vulnerable in Ghana – but as the country works to become less reliant on aid, the UK should take care not to scale back its financial support too quickly.
Published

12 Feb 2020

Assessment

Lead commissioner

Tamsyn Barton

Subjects

Country portfolio

Related documents
Relevant Sustainable Development Goals
---
Although still affected by significant poverty and inequality, Ghana is working to move "beyond aid" after achieving the status of lower-middle-income country in 2011. As Ghana's economy transforms, the country's development partnership with the UK is also changing. The UK has invested approximately £2.8 billion in bilateral aid in Ghana over the past two decades. Since 2011, the UK's aid portfolio has been reoriented towards helping Ghana overcome its economic and governance challenges, and towards mobilising the resources to help Ghana finance its own development. At the same time, the UK has continued to finance education, health and social protection programmes in Ghana, but with less funding.
This country portfolio review assesses the relevance, effectiveness and sustainability of all UK official development assistance (ODA) flows to Ghana relative to the UK's following objectives:
Transforming Ghana's economy: contributing to inclusive growth in Ghana so that the benefits from a growing economy are shared widely among the population.
Leaving no one behind: tackling extreme poverty and vulnerability in Ghana, including through addressing gender disparities.
Strengthening Ghanaian institutions: supporting Ghana in developing competent and sustainable institutions.
Transitioning the UK/Ghana partnership: managing transition away from a traditional aid relationship in a manner that safeguards past development gains.
Our review covers almost all UK ODA to Ghana from 2011 to 2019. It includes almost all bilateral aid from all UK government departments as well as the UK's imputed share of multilateral aid to Ghana.
Findings
Relevance
The UK aid portfolio responded well to Ghana's governance challenges and its need to self-finance its development.
DFID's social sector programming reflects the concerns of the poor and targets population groups at risk of being left behind.
However, crucial decisions on reducing aid in the social sectors were made without a sound analysis of the implications for service delivery.
UK aid support for private sector development reflects the importance of economic diversification, inclusive growth and job creation for Ghana.
The UK's broad cross-departmental approach to Ghana's economic development was a coherent and coordinated response to the government of Ghana's beyond aid priorities.
Closer cooperation between UK trade, investment and aid instruments provides an opportunity to improve the development impact of other flows, as long as there is attention to the risks for development objectives.
Effectiveness
DFID Ghana exceeded six of the seven headline results targeted in its 2011-2015 operational plan, however, the plan's results framework covers less than 50% of the spending during that time.
UK aid lacks portfolio-level objectives to ensure the effectiveness of the Ghana portfolio, but our contribution analysis showed that UK aid programmes often contributed to Ghana's development results, with varying levels of effectiveness.
At programme level, UK aid programmes almost always achieved or exceeded their output targets, as measured in DFID reviews. But, progress on outcomes was less common, and not reported for about a quarter of programmes.
UK aid's multilateral partners have made key contributions to progress against UK aid objectives.
But, DFID's mechanisms to engage multilaterals at the global or country level on their work in Ghana in the context of transition are underdeveloped.
Sustainability
DFID has a mixed record in contributing to stronger Ghanaian institutions for the longer term.
DFID chose delivery methods for social services that allowed initiatives to reach high numbers of beneficiaries, but at the expense of strengthening weak Ghanaian government systems.
The institutional strengthening model used in the governance sector shows early promise of being effective. In other areas institutional strengthening was not thoughtful and therefore less effective.
UK aid's bilateral and multilateral contribution to revenue mobilisation and macro-fiscal stabilisation is critical for Ghana's return to significant growth and self-reliance to sustain its development gains.
Key human development results delivered by DFID through the financing of services during the review period remain at risk of not being sustained.
Recommendations
In transition contexts, DFID should ensure that the pace of ending the bilateral financing of service delivery in areas of continuing social need must be grounded in a realistic assessment of whether the gap left will be filled.
DFID should require portfolio level development outcome objectives and results frameworks for its country programmes.
DFID Ghana should learn from its own successes and failures when designing and delivering its systems strengthening support and technical assistance.
In transition contexts, DFID country offices should increasingly work to influence the department's country multilateral partners on issues of strategic importance.
DFID should include information on citizen needs and preferences as a systematic requirement for portfolio and programme design and management.
The government should provide clear guidance on how UK aid resources should be used in implementing mutual prosperity objectives.
Watch ICAI's chief commissioner introducing the review:
Government response
The government publishes a response to all ICAI reviews. The government response is available to read online.
International Development Committee
Parliament's International Development Committee (IDC), or its ICAI sub-committee, hold hearings on all ICAI reviews. The IDC hearing on our Ghana country portfolio review is available to watch online. The transcript is also available to read.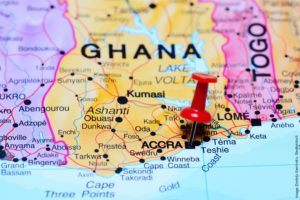 Published

12 Feb 2020

Assessment

Lead commissioner

Tamsyn Barton

Subjects

Country portfolio

Related documents
Relevant Sustainable Development Goals